Chicken Basque or "Poulet Basquaise" in French is a traditional dish that comes from the South western part of France. Its preparation requires time and would be challenging since not everyone can succeed in the cooking. Delices & Gourmandises Chicken Basquaise, is prepared by professional chef, usually served with rice ; these are the important steps to follow: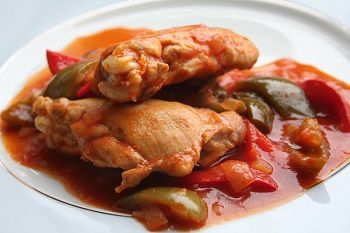 Ingredients
1 teaspoon paprika
2 teaspoon olive oil
2 skin on chicken legs
2 chopped onions
2 garlic gloves, chopped
Pinch of mixed herbs
¼ cup white wine
1 (14-ounce) can crushed tomatoes
Salt and pepper

Directions
1. Season the chicken with salt and pepper. Heat the oil in a frying pan and let the chicken cook until very brown. Remove from pan and set aside.
2. Reduce heat to medium. Add the onion and garlic and cook for 1 minute. Deglaze with wine.
3. Mixed paprika, herbs and tomato. Add the chicken. Cook, stirring occasionally, for 30 minutes until the chicken is tender. Served with rice or zucchini and it's ready!