No one could resist to these little French pastries known as Macarons. Perfect as presents and easy to keep, you can serve them at any time of day. Delices Gourmandises macarons are lightly crisp, chewy and still manage to melt like butter in your mouth but "how to make perfect French Macarons?" Here is one of our easiest recipes.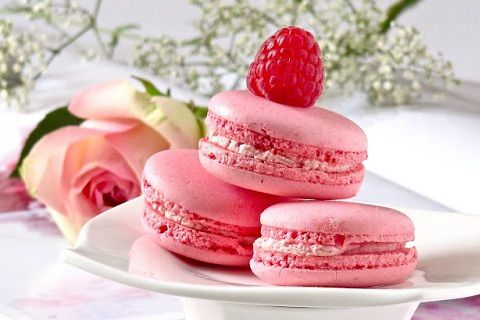 Ingredients
1 cup confectioners' sugar
2 egg whites
¾ cup almond flour
¼ cup white sugar
Pinch of cream tartar


Directions
1. In a bowl of a stand mixer, beat egg whites until foamy. Add sugar and a pinch of cream tartar. Continue beating until egg whites are glossy, fluffy and hold soft peaks.
2. Pulse confectioners' sugar and almond flour in a food processor until combined. Sift in a separate bowl and add the mixture into the egg whites.
3. Once the batter thick and fall slowly when dripped from the spatula. Pipe 1-inch circles onto baking sheets lined with silicon mats or parchment paper. Let stand at room temperature until dry, and a soft skin forms on the tops of the macarons, 15 to 30 minutes.
4. Preheat the oven to 275 degrees F
5. Bake for 10 to 12 minutes until set but not browned. Remove baking sheet to a wire rack and let the macarons cool on the baking sheet for about 10 minutes. Take care when removing the macarons, their tops are easily crushed. You can use chocolate ganache or Jam as a filling.
Tips : You will know the macarons are done when you can touch them and the top of the macaron does not slide around under your finger.