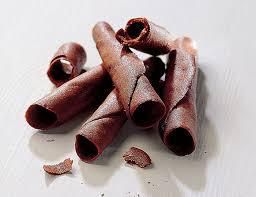 Being served as a snack or as an accompaniment to dessert, chocolate cigarettes are delicious and will unanimously be loved by your family and friends. To give you satisfaction, Delices & Gourmandises included in its catalog the famous chocolate cigarettes which are made by professional bakers, according to traditional recipes. To give you an overview of their preparations, we offer you a recipe to follow.
Here are the ingredients you need to make your chocolate cigarettes (about 16 cigarettes):

- 1 egg white
- 50g icing sugar
- 2 tablespoons flour
- 2 tablespoons cream
- 25g melted butter
- 10g cocoa

Preparation and cooking time takes about 30min.

- Preheat the oven to 220 °.
- Beat the butter, icing sugar and cocoa.
- Add the egg white and cream, and stir vigorously until you get a smooth, glossy paste.
- Drop 4 small tablespoons of dough on a greaseproof paper or a silicone mat, and spread them with the back of a spoon to have a round shape.
- Bake for about 4 minutes.
- Once you removing from the oven, wrap them around the handle of a wooden spoon to give them the expected form.
- Repeat with the remaining dough.
- Let them cool and keep them away from moisture by putting them in an hermetic container.

Warning: you must be very precise and quick to make cigarettes right out of the oven because the paste dries very quickly.

Some additional tips for a successful recipe:
- It is recommended to limit the number of your candy cigarettes as a matter of practice.
- You can use a Silpat instead of greaseproof paper for easy rolling of the dough. This remains applicable to the preparation of all other pastries form.
- You can pour some whipped cream on your cigarettes or sprinkle them with icing sugar.