Délices & Gourmandises crispy waffles can be enjoyed both at breakfast or snack at tea time. Whether you're a good cook or not you can make homemade waffles following this easy-to-make recipe.
What you need to make waffles for 4 people: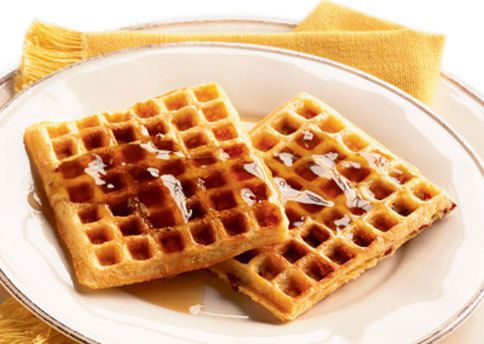 Ingredients:
- 300 g of flour
- 2 eggs
- 50 cl. of milk
- 1 sachet of vanilla sugar
- 1 teaspoon baking powder
- 1 pinch of salt
- A block of butter
Equipment:
- A waffle iron
- 2 large bowls
- A whip
- A ladle or a plastic bottle
How to prepare the waffle batter?
Pour the flour at once in a bowl. Add yeast, a pinch of salt and sugar and mix everything well.
Whisk the eggs and milk in another bowl until frothy. Stir in flour gradually while continuing to whisk until the dough is smooth with no more lumps.
Let the preparation to rest for about 15 min and heat the waffle iron.
How to prepare the waffles?
Most people pour batter in the waffle iron with a ladle, but you risk spilling. We suggest you transfer the batter in a plastic bottle for easy spreading into the waffle iron. Let each waffle cook 2 to 4 minutes depending on its thickness. Make sure to coat the cooking surface of the waffle iron with some butter to prevent the batter from sticking to it and to give your waffles a nice buttery taste.
How to serve your waffles?
Waffles can be enjoyed cold or hot, stuffed with chocolate, jam or honey, or accompanied with a hot or cold drink according to your taste. You can also quickly reheat Délices & Gourmandises tasteful waffles and microwave to give them back their crisp.