Really appreciated in Scandinavian countries and Alsace, mulled wine is most drunk when the temperatures get lower. Delices & Gourmandises invites you to discover this beverage which fame has crossed the frontiers and the centuries.
A drink made with red wine and spices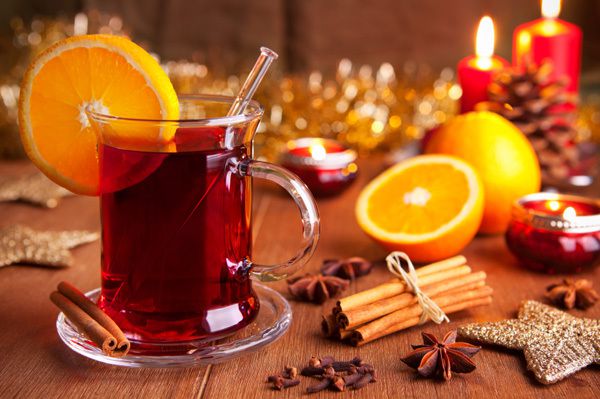 The mulled wine is generally made with red wine and a mix of herbs and spices. It was already used in the Roman times. Until the 17th century, it was considered as the aristocratic people beverage. Nevertheless, when the Swedish king has allowed his subjects to make their own alcoholic drinks, each family has begun to produce their own mulled wine.
The mulled wine is traditionally drunk at Christmas time but many people love to have some when it is really cold. It really helps to warm in winter.
How to make mulled wine?
Here is a very simple recipe of mulled wine. For 6 persons you will need:
- 1,5l of red wine
- 100gr honey or 200gr brown sugar
- 1 non-treated orange
- 1 non-treated lemon
- 2 cloves
- 2 sticks of cinnamon
- 2 pieces of star anise
- Some grated nutmeg
Peel the orange and slice the fruit. Slice the lemon too. Mix the wine, the sugar or the honey, the orange zest, the cinnamon, the nutmeg and the cloves in a pan and slowly heat. Remove from the heat before it boils and add the lemon slices and the star anise. Let brew and filter. Just heat the beverage when you want some.
It is recommended not to drink it anymore if you notice a change of smell or a change of the color.
In Delices & Gourmandises wine catalog, you will find a wide range on delicious red wine that you can use to make your own mulled wine. Great wines form the best French vineyards are available: Languedoc, Bordeaux, Pays du Gard and Côtes du Rhône.