Kaaks are traditional crown-shaped cookies. It is a well-known and much-loved specialty in the Middle East and it is also becoming increasingly popular in France. If you want to know all about this oriental pastry, here are the answers to your questions, provided by Delices and Gourmandises.
Melting spiced cookies
Kaaks are prepared with a paste made from flour, sugar and sesame seeds and anise. Its crunchy and deliciously soft texture is due the simultaneous use of both baking powder and yeast. Please note that the traditional recipe does not contain eggs, but some pastry cooks'd rather add eggs and replace the vegetable oil with butter.
Sometimes, these biscuits are vanilla or coconut flavored, following the individual tastes and wishes, but keeping its melt in the mouth texture remains essential.
Preparation of kaaks
To prepare twenty crowns according to the traditional recipe, you'll need the following ingredients: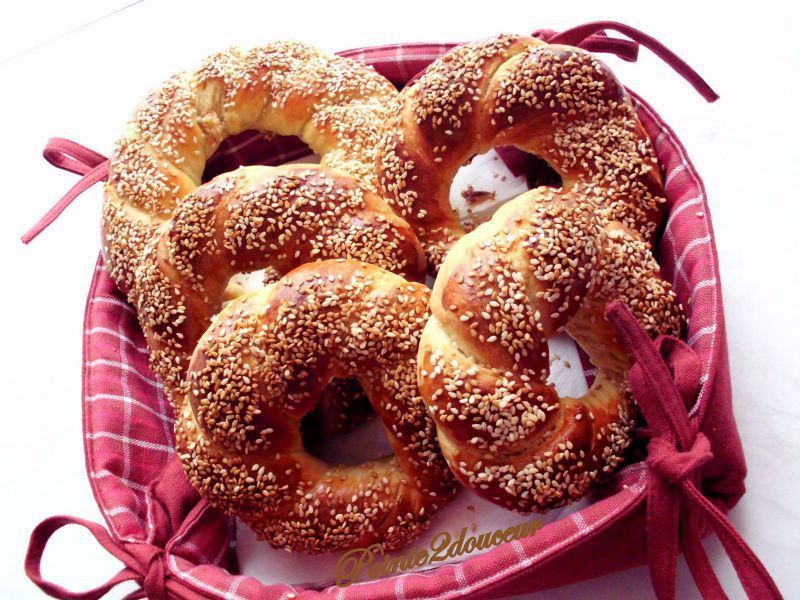 - 500g flour
- 125gr of sugar
- 125ml of vegetable oil
- 50gr of toasted sesame seeds
- 30gr of aniseed seeds
- A package of baking powder
- 10gr of baker's yeast
- Lukewarm water
In a bowl, mix flour, sugar, sesame seeds, anise seeds, baking powder and vegetable oil. Then, knead dough with hands until it becomes sanded.
Dissolve yeast in slightly warm water and gradually incorporate it into the dough then knead again until the mixture becomes homogeneous.
Roll your dough into a long log and cut it into 20 equal sticks of about 1.5 cm thick. Join the two ends to form a crown. With a knife, cut the outside of the crown (but without cutting the crown!) to get a serrated structure.
Place the crowns on a lightly oiled plate and bake for half an hour (or until golden brown) in a preheated 180°C oven.
Want to vary the pleasures? Delices and Gourmandises invites you to taste its coconut-flavored crowns.