The origin of this kind of biscuit is not really known but one of two regions in France is believed to be its birthplace. Sablés are famous around Christmas time. In Alsace, it is used to decorate tables and Christmas trees. However, in Bretagne, the biscuit is not associated to any particular event. It is consumed all year long in that region of France. As a matter of fact, winter or summer, you will find the crunchy texture of sablés irresistible. Delices and Gourmandises wows you in this recipe how to prepare this butter biscuit.
The recipe by Delices and Gourmandises
Sablés are made of flour, sugar, and butter. They are great for snacks or consumed during tea time.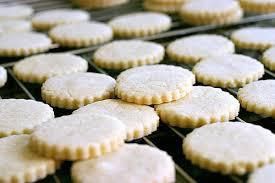 Ingredients:
- 125gr butter
- 120gr sugar
- 1 sac of vanilla flavored sugar
- 1 egg
- 250gr flour
Preparation time: 20 minutes
Cooking time: 20 minutes
First, beat the egg in a small bowl and add the vanilla flavored sugar to it along with a little bit of salt. Stir well until you get a homogenous white mixture.
- Pour flour, then mix everything with your hand in order to get a sandy mixture.
- Add butter and stir well to get a homogenous dough.
- Beat the dough and form a ball with it.
- Leave the dough in the fridge for about 15 minutes.
- Preheat oven to 180 degree
- Spread the dough and make it such that it would have a thickness of 5 mm
- Use a knife to cut your though and make any form you want with it. After that, put it in a buttered plate covered by a baking paper.
- Put it in the oven for about 20 minutes